July 15, 2019
The "Porters" race
Two lines, one for "local" runners one for "international" runners, two prices, $1 for local runners and $10 for international runners. Welcome to Africa and to the small country of Malawi and more specifically the region of Mulanje, home to the Mulanje mountain, "The table top in the sky" as it as been labelled. A 3,000m peak that shoots up out of a predominantly flat landscape which should it be more accessible no double would attract more tourists but the fact that for most inbound visitors the journey to the mountain takes multiple flights and perhaps even as was the case for us a overnight stopover in Tanzania due to the inbound flights to Blantyre being only ones daily.
The Mulanje mountain however has been attracting those with a thirst for adventure for a number of years, and of course where there are adventurers and tourists there are locals willing to help and in doing so hoping to make a buck or two. As is the case with mountain climbs around the world incoming foreigners are often happy to pay relatively inexpensive fees to "Sherpas" or in the case of the Mulanje mountain "porters" to assist with getting themselves and their equipment safely up and down the mountain.
Human nature drives competition and some 20 years ago after a back and forth debate between a few porters on who could run up and down the mountain the fastest there was only one way to find out and the "Mulanje Porters Race" was born.
My connection to Malawi like many things in life is quite random but in short I was training a client who signed up for an event called Orbis Challenge in 2018 which occurs annually in Malawi, she returned from the challenge with only great things to say about the country, the challenge and specifically a local runner by the name of Edson. Over a coffee I listened closely and enjoyed the story about the adventure she had had but I never for one minute imagined that within the next 9 months I would randomly meet Edson in a hotel in Dubai, we would then put together a simple program (InnerFight Chance) in attempt to help Malawi runners which would see Edson race in the 2019 Ultra X Race in Sri Lanka, the 90km Mont Blanc marathon in Chamonix and then Josh and I arrive in Mulanje for the Porters race. Life moves pretty fast I guess and so long as you stay open, true to your vision and do things you love then the things you love happen.
"These are my running friends" stated Edson as we had just completed the simple resignation process at the start of the race. A process that reminded me of races in my youth where you just rock up and there are a few people in a field and a registration table that you pay your money to, get given a race number and a lunch voucher and prepare for the race. As I met Edison's friends and we started the "warm up" I couldn't help but notice the various forms of footwear that the 15 plus strong squad were wearing, they ranged from football boots, to crocs to something that I am sure that at some stage were a pair of Tom's or the likes but they now boasted too many holes to really figure out what they started life as. Of course some of the "luckier" ones Edson told me were the ones with shoes.
During the warm up all I could think of were the 100+ pairs of shoes that had been kindly donated but the InnerFight community that Josh and I had carried with us in boxes. We were planning to give the shoes out the day after the race, what a mistake I thought, these guys need them now. Although shoes were on my mind, they were certainly not on the mind of the runners. They were all focused on the race and cared zero for their footwear or their clothing. They knew what was up for grabs today. $500 for the winner of the race and price money all the at down to 10th position for the males and 5th position for the females. This was the race of the year and their placing in it could literally change their lives.
Having been in Africa for a few days and being reminded that "African time" is a time zone of it's own and "TIA" (this is Africa) has many meanings I was somewhat surprised that just as I was taking my jacket off at 6:45 in preparation for a advertised 7am start that the race had just begun. I threw my jacket to Josh and from the back of a "claimed" 400 strong field I started the race. "24km, 1,500m climbing, 8km up, 8km across, 8km down." Was the race brief Edson had given me.
As you can imagine it was mayhem from the outset, screaming, cheering, shouting, whistling, men, women, kids, shoes, no shoes. This race had it all and you could see what it meant to the local people. Splattered around the pack were a number of international runners, some of them I could tell were here to race, others were here to soak up the history and the culture.
Well the first part of the race brief that Edson had given me was very accurate as the trail turned up within 500m of the start line and stayed that way for what seemed like a long time. Perspective came in many shapes and sizes, at times it entertained me as I saw one man running in a weightlifting suit and then at other times it made me think perhaps how soft we have become as 6km into the race I caught up with a gentleman who had no shoes or shirt on but was giving is very all to this race and there I was testing out a brand new pair of Cloud Venture Peaks from On Running!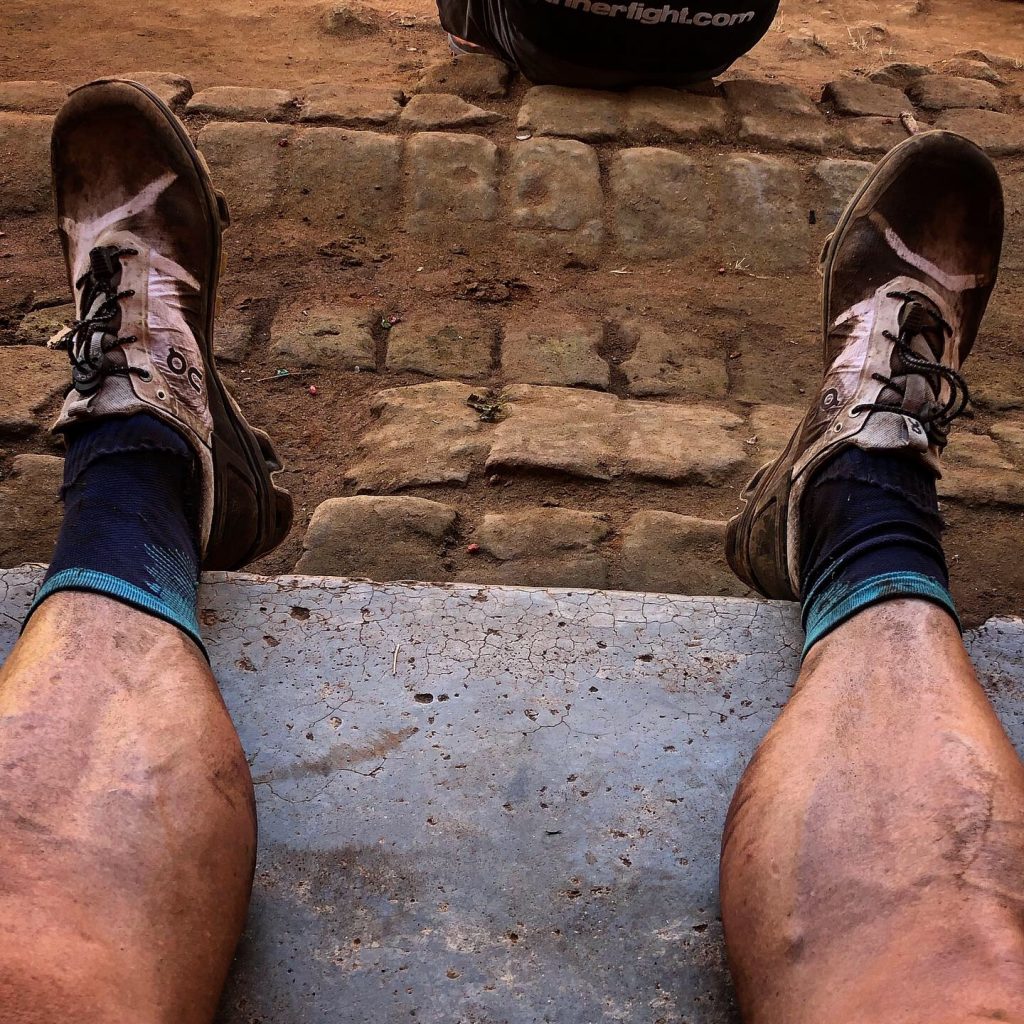 In trial running the trail is never really even and is rarely flat, you are either going up or you are going down, however for the most part there is a trail to follow, most routes are well trodden and although there are rocks and boulders to negotiate you don't feel like you are passing through somewhere for the first time. Mount Mulanje was different, different on the climbs and different on the descents. Some of the grass and growth on the course had just been cleared the day before but the underfoot was unpredictable and you had to be on your game the whole time or you would end up on your backside at best.
The second part of Edsons race brief did not pan out quite as he had explained it and in fact it ended up that the second 8km of the race was not flat but just a less aggressive climb than the first 8km. It was what it was and I was ready to play what was in front of me. When I knew I was going to be in Malawi for this race I knew it would be special, special to run in a new country and special to run in a race with the local people that have such great stories and that we can learn so much from. I had started to prepare mentally for it a few weeks before knowing that I would be racing very hard, not really against others (although there was an international and a local runners competition) but against myself and against the mountain. At the 10km point I felt alive, I knew the first 10km had been brutal  but I fed off the energy of those around me, the mountain and probably the fact that I had had a Smith St Paleo Ultra Bar for breakfast and had also had a Secret Training gel 40 minutes in. It was not till the latter parts of the race when I was just about to have my 4th gel and I passed half a dozen local runners who were "hitting the wall" due to no nutrition at all that I felt slightly guilty about my race nutrition plan.
Aside from a lot more up and not too much down in the second 8km of the race it was just beautiful, amazing scenery, fresh and cold mountain air as well as local volunteers who had run up the mountain ahead of us carrying water so that we had some when we passed them. "I'm alive, this is life, I'm living" I kept saying to myself as I often do in situations like this and then I would get back to the job at hand constantly checking how hard I was pushing myself knowing that I wanted to finish this race as empty as possible.
There were a few international runners around me but I really had no idea if and or how many were ahead, that obviously makes it hard to race, to judge how much to push so I again settled back to pushing as hard as I could an not to worry about anyone else. We reached the top of a peak from which I could see a small dip and then a long climb out the other side of around a kilometre, checking my watch for distance I was pretty sure that would be the last climb before we started the huge descent to the end. I could see people were flaking on it and all I could think of to myself was "attack" "attack" "attack". When I am climbing I always remember how much strength work I do for my legs through our "Run Strong" program, the hundreds of lunges and step ups that form the base of our "Ultra Legs" workouts and I tell myself that "no one else has done that kind of training so you need to push harder and start over taking people right here and now." That for me is my measure as to if I am pushing hard enough. Today I was and I passed a number of people on the way up, 1 international runner and closed in on another.
The descent was in full swing, it was the most sketchy descent I had ever done by far. Having no path on the way up was manageable as you are going slowly but when you are going down a 25% gradient and there is no path, long grass, tree routes and rocks you are challenged in all sorts of different ways. The international runner I had passed on the way up the final climb came flying passed me and the guy I had caught at the top. I stuck just behind this guy and let him navigate us down the mountain. We occasionally came across the only course markers which was flour poured on the floor which confirmed we were going in the right direction putting my mind at ease. With what I thought was 6km to go I knew I had to make a move to try and catch the guy that had gone passed us and any other (if any were ahead) international runners. I let the brakes off and threw away any rational thinking embarking on what was perhaps one of my fastest and most high risk descents to date.
The aggressive gradient eased at the 20km mark and although we were still going down hill I felt a bit safer and was actually able to run faster. Rounding a bend into a clearing in the forest I saw a few hundred meters ahead the international guy that had passed us, slightly surprised I locked my mind on him and chased with everything I had. Having in my mind that there was 4km or less left I knew I could suffer for at least 15-20 mins. Suffering at this stage was not only my legs and lungs but I also felt hot spots on my feet. Reality hit me about 3 minutes later as I ran up and passed a local runner who I would later find out was 10 years my senior and had no shoes on!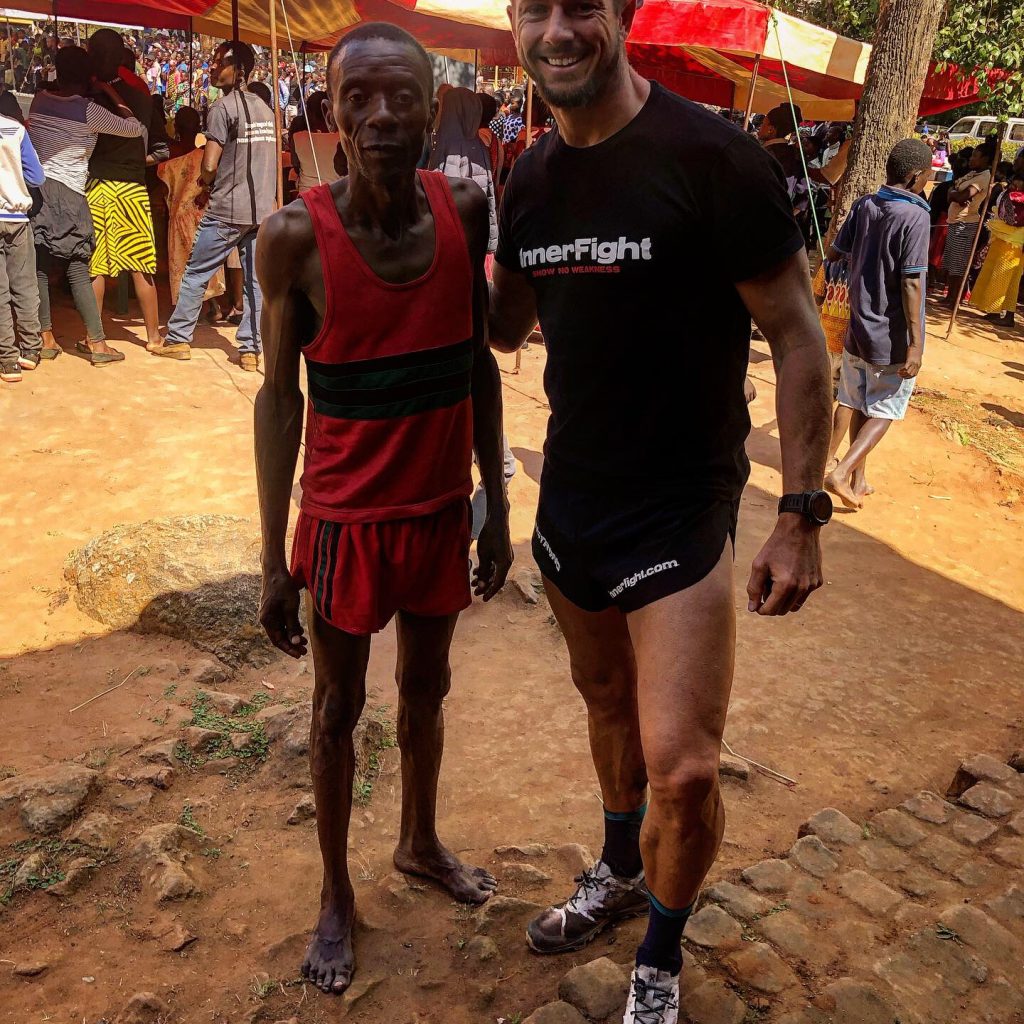 My excuses I was making myself were invalid and I upped the anti. Seeing ahead another runner I pushed as hard as I could, closing in on him I realised he was also an international runner. 21km on my watch as I passed him, in passing him I felt like he latched onto my tail, we were now in a race. A race that then took us across a dry river, through more technical trail and then into a a short climb, a climb that I slowed down on and this guy passed me, as he did I was somewhat surprised thinking he must have found new legs, so I pushed harder, he had around 20 meters on me. I thought to myself this is going to be the most insane last few KM of a race ever, I will get him.
The 20m that he made on me on that small climb was not getting any smaller, I somehow recognized the trail we were running on, it was where I had been warming up with the team, there was 400m left in the race. I pushed like I was back at track Tuesday, full gas, full murder mode, everything I had, but it was not enough, he held on with about a 15m gap to beat me over the line. Catching my breath at the finish line I was told I was second. Unbelievable I thought, that was a race for first and second. Wow.
The finish line was like a war zone. We arrived at the 3 hour mark, the local winners had already been there 45 minutes, some of the top runners were in the "medical" (take that as you will) tent and a number of the new arrivals were being carried off into the tent. They had raced, they had raced hard, they had raced with everything that they had, in some cases they had raced for life, it was unreal and even as I close out this report still has me thinking……thinking what you may ask, thinking many things but if I could sum it up in one phrase or piece of advice this would be it….. Your excuse is invalid! If those guys can race as they did on that day with no shoes, in weightlifting outfits and the list goes on then that fact that you actually have the ability to read this means any excuse that you have ever made or were ever planning to make for not pushing hard, missing a workout or not being committed to living your life to the full every single day is totally and completely invalid, we must continue to suffer more to really understand the true meaning of life!